December In Review: Here Are The Top Trending Songs Of The Past Month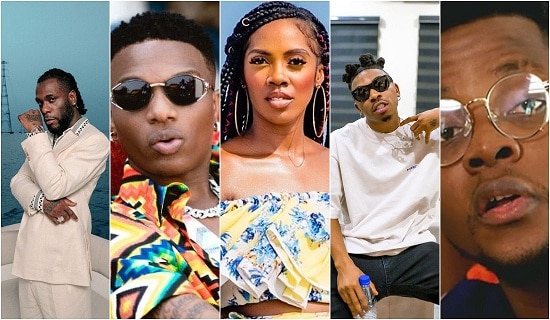 Nigerian music has greatly improved a lot since the beginning of 2021. With the end of the Pandemic period and re-opening of public events, good music are being released steadily to help ease out things be it motivational or energetic and sensual.
Also, the Amapiano genre from South Africa became popularized in Nigeria as it is widely used in songs either as a sole genre or fused with Afrobeat.
Towards the last quarter of 2021, Nigerian music stars as usual dropped banging new songs to navigate the end of the year. They are highly rated songs that stems from top rated artists and new names in the industry. Some of the songs that helped make the festive season bubbly are listed below
Portable – "Zazoo Zeh" ft. Olamide, Poco Lee
The song, Zazoo Zeh by the controversial new breakout singer, Portable. Formerly, a roadside singer, he gained much recognition with this song that featured Nigeria's talented indigenous rapper and singer, Olamide and one of the best dancers in Nigeria, Poco Lee. Zazoo Zeh without doubt is the biggest song of December, 2021 as it became a street slang hours after its release. The music video to the song gave credence and amazing visuals to the song making it an outstanding hit of the year.
Fireboy – "Peru" ft. Ed Sheeran
Fireboy DML of the YBNL Records released the remix to his outstanding trending hit song of the year, 'Peru' with International award winning superstar act, Ed Sheeran. This remix is currently the hit song of the moment as it trends well on social media. This song is regarded as a masterpiece by the duo with the amazing and sweet vocals dubbed on the song as well as the catchy verses and lyrics in the song.
Tiwa Savage – "Tales by Moonlight" ft. Amaarae
Nigerian Diva and songstress, Tiwa Savage featured Ghanaian talented act, Amaarae on this mind
blowing song titled, 'Tales By Moonlight'. The song is off her Extended Playlist, 'Water and Garri' which was released in the early part of 2021. This song depicts the cultural act of storytelling and it has received positive reviews since its release. The visuals to the song is a creative and well crafted one.
Mayorkun – "Holy Father" ft. Victony
Mayorkun, and Victony bonded together on this song, 'Holy Father'. The duo gave the song their all and it's recognized as one of the hit tracks of Mayorkun's debut album 'Back In Office'. Mayorkun's sweet voice and Victony vocal quality gave credibility to the song making it top several charts. The song also gained popularity on Tiktok and its categorized as one of the top Afrobeat songs of 2021.
Zlatan – "Ale Yi"
The CEO of Zanku Records unpacked this beautiful and energetic song titled, 'Ale Yi'. The song has lovely, incredible and captivating lyrics with a flawless production. The song which preaches being hopeful and frowns on deep thought has become a Tiktok challenge giving the hit song more recognition. The intro of the song also makes it a happy motivational song that is in contrast to the regular motivational and inspirational songs.
Kizz Daniel – "Pour Me Water"
Nigerian hitmaker, singer and songwriter, Kizz Daniel unleashed this mind blowing track, 'Pour Me Water' off his Extended Playlist 'Barnabas'. The song is a catchy and astounding song that became a popular challenge on Tiktok which further helped to increase the success of the song. The visual to the song was released in December, 2021 and it is currently making waves on social media.
Naira Marley – "Kojosese"
In December 2021, street king Naira Marley dropped this electric banger titled, Kojosese. This danceable track sure entertains his fans once again with its electrifying tune and rhythm. The song is a follow up to Naira's hit single; 'First Time in America' and it expectedly lit the street on fire with its release. This is also one of the good songs to navigate through the festive period and to end the year on a good note and it is still making rounds on major streaming platforms.
M.I Abaga – "Spirit" ft Vector
Two incredible rap kings teamed up to deliver this amazing song named, 'Spirit'. MI and Vector dish out this tune off the Extended Playlist, 'The Very Special Tape' which features some of Nigeria's finest rappers. The duo delivered smooth array of well constructed and defined lyrics that thrilled their fans and listeners.
Burna Boy – "Ballon D'Or" ft. Wizkid
Grammy Award winners Burna Boy and Wizkid, joined forces to thrill their fans with this delectable hit song, up Ballon D'or. This comes after the success of their recent collaboration titled, Ginger off Wizkid's Made in Lagos album. The song is being widely listened to by their fans both across and beyond and there's no certain percentage of how far the song will travel as these two international superstars teamed up on this sweet jam.
Harrysong – "She Knows" ft. Olamide, Fireboy
Harry Song carried on board indigenous street rap artist, Olamide and multitalented act, Fireboy DML on this sweet jam, She Knows. The song is very lovely with amazing verses and it no doubt became a hit and trending song.
Simi – "So Bad" ft. Joeboy
Soulful singer and songwriter, Simi teamed up with the dynamic singer, Joeboy to release this amazing song. The two talented vocalist gave their listeners an epic delight with this captivating song. Simi dropped the visual to the song in December, 2021 and it's as amazing as the song itself.
Asa – "Mayana"
Nigerian international music act, Asa returned to the music scene last December as she dropped the visual of her new hit song titled, 'Mayana'. As usual, Asa's songs are amazing and incredible and this is also another epic song to prove that. She has her fans vibing and gyrating to this smashing hit song.
Mayana was produced by popular Nigerian producer P- Priime while the visual was produced by Meji
Alabi.
Ruger – "Dior"
Ruger, the outstanding new act with pink hair and black eye patch dropped this hit single titled, Dior coming after his previous project, Pandemic EP. This remarkable song, Dior is off his recently released EP, The Second Wave. It has a very vibrant tune that anyone can easily vibe to and relate with.
Kizz Daniel – "Eh God" (Barnabas)
Kizz Daniel proved once again released another hit song in the last quarter of 2021. The song, 'Eh God' is a follow up to his latest sensation, Lie which is still buzzing the music scene with over 15 million streams on Audiomack alone. Eh God is also a hit song with lots of streams and downloads on digital platforms. It is a very addicting song that captivates at first listening.
Goya Menor – "Ameno Amapiano Remix" ft. Nektunez
Goya Menor, multitalented singer, rapper, MC and Hypeman teamed up with Ghanaian record
producer, singer, and composer, Nektunez to deliver the remix to the viral song Ameno. The song has been buzzing since its release and its all people can recite. The song has enticing lyrics that captivates listener's attention immediately it is being played and it is no doubt one of the trending hit songs of December.
Fave – "Baby Riddim"
Baby Riddim by Fave is an amazing song. Fave used a beautiful rhythm and pure undiluted lyrics to convey her love for a man and how attractive he is to her. The song has a sweet flow of rhythm that is easy to remember and recite. The beauty of the lyrics, tune and credibility earns the song a spot on one of the best Afrobeat songs of and it is being played in every cranny of Nigeria.
Bad Boy Timz – "Move"
Bad Boy Timz is one of the fast rising music stars in Nigeria that many have hope for and look forward to since the time he featured in Olamide's song, Loading. On the song, Move, Bad Boy Timz, a fast rising star, displayed his amazing talent to exhilarate his fans and treat them to this happy and cheerful song.
The song is packed with happy vibes and it has received positive reviews and good comments since its release. The song is also one of the best songs of the year with its energetic and electrifying beat.
Mohbad – "Backside"
This conventional club song by Mohbad is definitely a well delivered song that sets the mood when its being played. The song which is about the size of a woman's behind is a follow up to his latest hit singles, Hello and 'Feel Good'. Backside is an amazing single that showcases Mohbad's talent and strength as an artist and his fans love it.
Tems – "Crazy Tings"
Tems dropped this amazing single off her EP, 'If Orange Was A Place'. The song is the lead single off the album and it has risen to No. 3 on the UK chart. Tems is gradually becoming the future of Nigerian Music as she keeps delivering 'mad jam' back to back.
The post December In Review: Here Are The Top Trending Songs Of The Past Month appeared first on tooXclusive.