Kanye West Apologizes To Soulja Boy For Calling His 'Donda' Verse Trash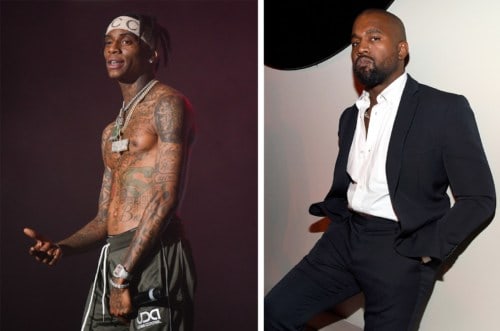 " I should have told you I wasn't gonna use the verse"
After months of realizing Kanye side-lined his verse on the final version of 'Donda', Soulja Boy finally got his well-deserved apology from Ye.
Yo it's Ye. Love you bro. I should have told you I wasn't gonna use the verse. Those were Kanye's words in a text he exchanged with Soulja on Tuesday, which was later shared o his IG on Wednesday, 10th of November, 2021.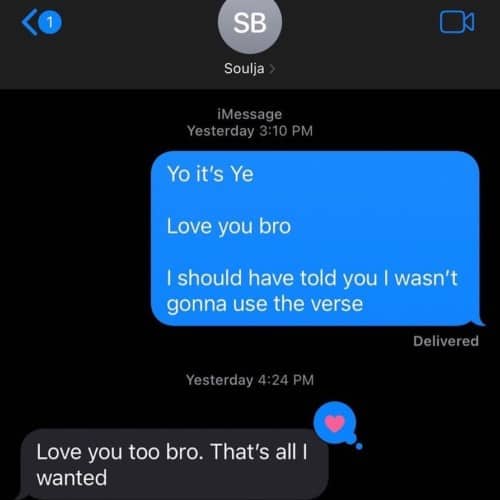 Following his rant about how upset he was, Soulja Boy responded to the text saying that was all he wanted. Love you too bro. That's all I wanted.
Back in August, Soulja boy responded to a fan who was curious about his take on kanye's delayed album, "Donada". He said, idk how to feel, Kanye sent me that song 'remote control' and I don't hear my verse on it… hmm f— that n—a
Soulja and Kanye exchanged texts but apparently, West heaped praise on Soulja Boy, I love you bro. You're a genius. Wanna work with you on the new GAP campaign. And my new album. The song Soulja said he was reportedly supposed to appear on, "Remote Control," instead features a verse from Young Thug..
The post Kanye West Apologizes To Soulja Boy For Calling His 'Donda' Verse Trash appeared first on tooXclusive.