Ycee Goes Hard on His Cover for Reminisce's 'Omo X100' | WATCH
Nigerian rapper, Ycee has dropped his cover on fellow rapper, Reminisce's trending single 'Omo X100' and he definitely went hard on this one.
Ycee shared his cover for Reminisce's Omo X100 via his Instagram page on Friday, the 16th of July 2021. The rapper shared the video for his cover, which sees him mostly delivering his lines while working along a beach path.
READ ALSO: Watch Ycee's music video for 'Nu Riddim'
Along with the video to his Omo x100 cover, Ycee also dropped the lyrics for his rendition of Reminisce's leading single. He raps;
Dying to live just to postpone and die another day
No easy route to chase the bag go hard or hide away
Waiting on blessings even tho we face a slight delay
And so I Go down on my knees and try another prayer
Dirty money hard to save skeletons inside the safe
Labors of our heroes past lay beside them in the grave
Swim against the current or you drown beneath the fucking wave
How can you be feeble minded and still try to lead the brave?
Sicker to my stomach I
Find myself saying Omo twenty thousand times
Cos y'all be the ones to draw the line and cross the line
Diamond in the rough that they steady been tryna to undermine
But I never let it hook me
Came a long way from when they labeled me a rookie
For a lil change I seen big dogs turn pussy
Me I'm on the edge don't push me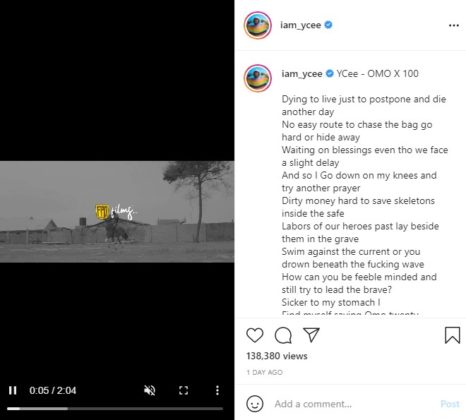 View this post on Instagram
The post Ycee Goes Hard on His Cover for Reminisce's 'Omo X100' | WATCH appeared first on NotjustOk.