Here's Why Simi May Not Bring Back Stoopid Sessions
Nigerian singer, Simi has revealed that she may not bring back her popular show, Stoopid Sessions because her words could be easily misconstrued.
Simi shared this information about the Stoopid Sessions via her Instagram stories on Friday, the 23rd of July 2021. She expressed that in her bid to pass a message, she could easily be taken out of context in this climate and that makes it now worth it for her.
Simi started by commenting on the culture of African parents raising boys and girls differently. She expressed dismay at the fact that men are taught to provide, while women are very pressured on their ability to make good decisions. In her words;
Men are usually able to make whatever choices or mistakes and to take more risks, because society will excuse them - because "boys will be boys". This is a privilege.

I do think the tide is changing a little with our generation. More women are realising they are more than what society expects. I love it for us.
READ ALSO: Adekunle Gold Enlists Wife Simi For Romantic 'Sinner' Video | WATCH
Simi also revealed that her Stoopid Sessions show which has been off for a year, might not be coming back after all. The singer expressed concerns that in this current clime, her words could be taken out of context and she doesn't like "over-edit" herself. She wrote;
They said I should bring back Stoopid Sessions. Frankly, I doubt it. Here's why - I get heated about things because I'm a passionate person. I'm also a human being, and no human bring is infallible. Not even superman. I always mean well, but I could very, very easily say something completely wrong or express myself in a way that distracts from the message I'm trying to pass or be taken out of context - in spite of my good intentions. In this err... climate(?), It's not the best fit for me rn. I'm not inclined to over-edit myself. And I would likely have to because "Simi the Duduke crooner". It;s disingenuous to me, and that makes it not worth it anymore. But I'll probably bring it back in some format. Probably not, but probably.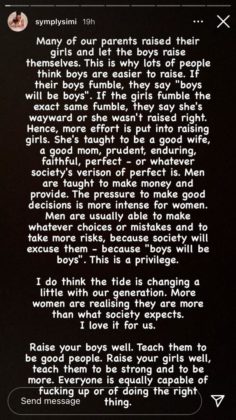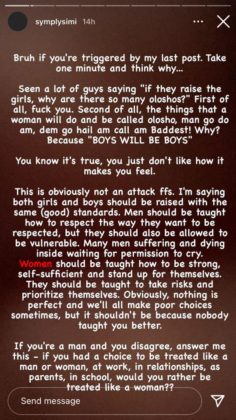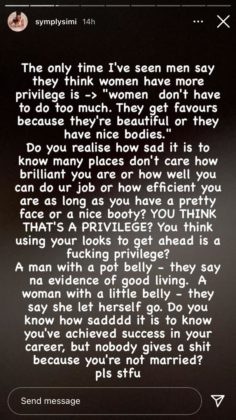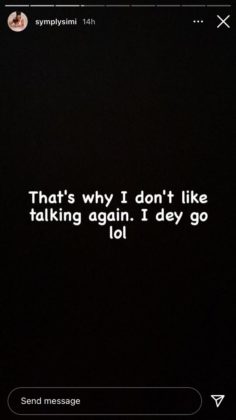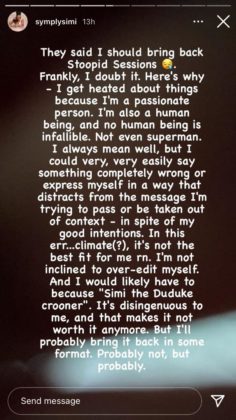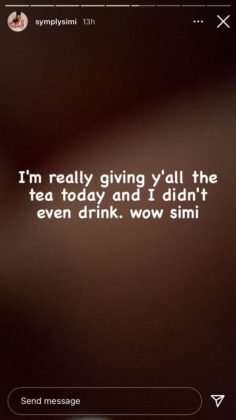 Get updates as they drop via Twitter and Facebook
The post Here's Why Simi May Not Bring Back Stoopid Sessions appeared first on NotjustOk.