Falz is 30 & This is What He's Praying For!
Nigerian Rapper and Human right activist Falz turns 30 today the 27th October, 2020 and the talented superstar has this prayer.
Falz
Instead of celebrating as he would have, he told fans that he had mixed feelings.
The rapper revealed his mixed feelings towards the day especially since it makes it a week since the Lekki Tollgate massacre which happened on the 20th of October 2020 as a result of the peaceful EndSARS protests that turned violent and claimed lives.
In the post which he shared on his Instagram page on the 27th of October, Falz stated that He is officially 30 and prays for a Better Nigeria he can call home.
Mixed feelings. It has been a week since we lost our brave soldiers at the toll gate.
I have also now officially been on this earth for 30 years.
I pray for a much better tomorrow. I pray for a Nigeria that I can truly be proud to call home
https://ift.tt/2HF1Bev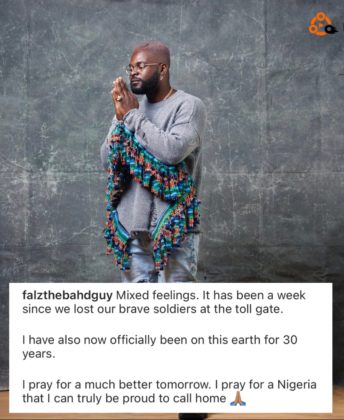 The post Falz is 30 & This is What He's Praying For! appeared first on Most Trusted Voice in Music & Afrobeats from Nigeria & Africa | Notjustok.